Logistics Labor: Bringing over talent
Finding, hiring, and keeping good employees have long been cornerstones for growing organizations that need human resources to keep the wheels turning. With a labor crunch in full swing right now, employers across all sectors are facing steep challenges even as they raise wages, hone their recruitment messages, and improve day-to-day working conditions for their teams.
Still, labor shortages continue to impede hiring, and the level of "churn"—when current employees leave and must be replaced with new hires—remains very high for many industries.
A recent "Talent and Labor Study" from Modern Materials Handling paints a picture of just how difficult the labor crunch has become and what companies are doing to address it. The survey found that 81% of warehouses and DCs want to fill open positions within the next 12 months, with warehouse workers (for 61% of respondents), transportation and logistics managers (45%), and warehouse managers and supervisors (42%) as the biggest demand.
Companies are worried about having enough manpower to manage their growing businesses. Less than one-third (32%) of survey respondents say that their companies are "highly prepared" to handle their workloads with current staff. Most (62%) say that they're "somewhat prepared" and 6% admit they are "not very" or "not at all" prepared.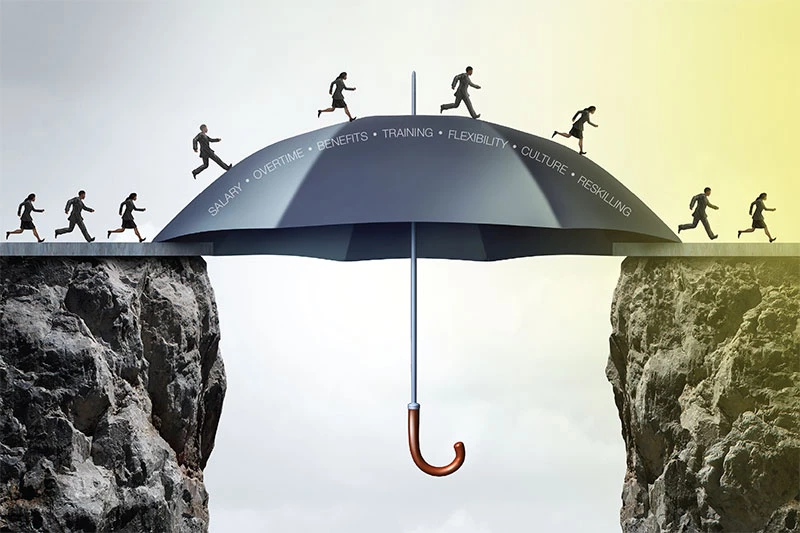 A challenge at nearly all levels
Generally, the survey respondents felt somewhat confident in their ability to retain labor and less so about their new hire recruitment efforts. To improve retention, companies are increasing hourly wages (66%), increasing bonuses (52% ), and offering overtime pay (39%). Other actions include offering incentive pay, education, health care benefits, and bonuses for taking additional shifts or a good attendance record.
Abe Eshkenazi, CEO of the Association for Supply Chain Management (ASCM), is now hearing similar feedback from companies. And while the labor shortage is affecting most corners of the business world, it's especially acute for any firms looking to fill warehousing, logistics, and transportation positions.
"From truck drivers to warehouse workers and all points in between, recruiting and retaining talent is a challenge at almost every level," says Eshkenazi, who adds that the supply chain talent gap existed pre-pandemic, but was made significantly more prominent as a result of COVID-19 and the resulting supply chain issues.
"There's a gap at almost every level now," says Eshkenazi, who points to the uptick in e-commerce, the "micro-warehouse" trend (whereby more companies are transitioning over to using smaller DCs that are closer to their end customers), and the shift to using more automation in fulfillment centers as some of the other key trends that are affecting warehouse hiring right now.
The latter trend has led to newer human resources need for knowledge workers at the fulfillment level. "Organizations need the technology footprint to be able to respond to the demand as well as the disruptions, but it's not just about the technology," Eshkenazi says. "Companies also need the knowledge workers who can understand the information and be able to use it."
The great evaluation is in effect
As VP, head of logistics, and 3PL at Adecco, Kyle Muhlenbeck has a front-row seat in the current talent shortage. Billed as the world's second-largest HR provider and temporary staffing firm, Adecco is well aware of just how difficult it can be to find, hire and retain workers in the current climate.
"The race for talent continues to be extremely competitive, and what we're noticing right now is that the candidates do have the upper hand," said Muhlenbeck. "And while a lot of people are using the phrase, 'The Great Resignation,' I'd say it's more about 'The Great Evaluation.'"
By that, Muhlenbeck means more employees are evaluating what's important to them, what works best for them and their families, how they can best achieve work-life balance, and what type of corporate culture they want to come to work for every day. Knowing this, Muhlenbeck says Adecco has been working with hiring companies to examine and adjust their cultures in a way that best meets candidates' and employees' needs.
These considerations are important for everyone from the entry-level order picker to the warehouse manager to the VP of the supply chain, all of which currently have ample opportunities to scour job boards or entertain what they might see as "better" offers. In particular, Muhlenbeck says entry-level pickers, packers, materials handlers—and forklift drivers with some experience—tend to be in the biggest demand right now.
The extra effort can produce significant returns for the company and its employees. "Upskilling and reskilling not only help employees understand the career path opportunities, but they also help individuals [move up] into a higher wage bracket," says Muhlenbeck. "That's important both for the associate and the company as a whole and particularly in the logistics space where some positions are extremely difficult to fill."
Source: The Logistics Management