InterLOG accompanies the VLA Association at FIATA World Congress 2022 (FWC 2022)
In addition to sponsoring the communication program of the VLA Association at FIATA World Congress 2022, the General Director of InterLOG was also honored to represent VLA to present Vietnam's strengths to win the right to host FWC 2025.
On September 12 & 13, the Agenda of working groups and exhibitions of the International Federation of Freight Forwarders Associations (FIATA) Congress - FIATA World Congress 2022 (FWC 2022) was held in a vibrant air. On the agenda, Mr. Nguyen Duy Minh, President and General Director of InterLOG Company, and General Secretary of the Vietnam Logistics Association (VLA) was honored to represent VLA to present Vietnam's strengths to win the right to host FWC 2025.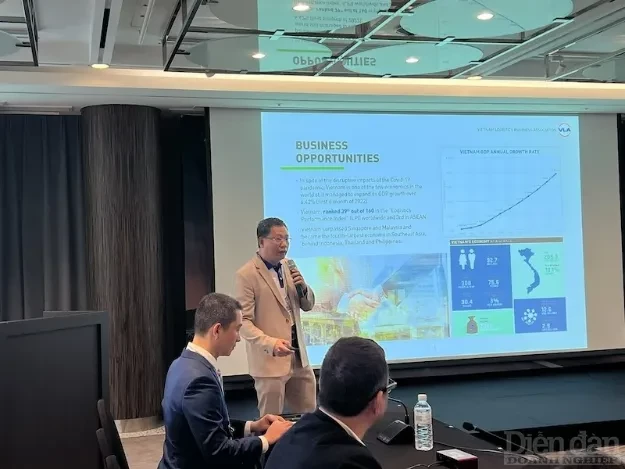 If FIATA WORLD 2025 (FWC 2025) is held in Vietnam, it will open up opportunities to connect trade and cooperate with more than 1000 leading logistics enterprises in the world. Vietnam is the next bright spot for global logistics enterprises to converge, meet and exchange new trade opportunities, contributing to increasing imports and exports and improving the competitiveness of Vietnamese enterprises.
Sharing of Mr. Nguyen Duy Minh at the FWC 2022 conference: Vietnam is one of the few economies with a GDP growth rate of 6.42% in the first 6 months of 2022 despite the impacts of Covid-19. In addition, Vietnam ranks 39th out of 160 in the "Logistics Performance Index" (LPI) worldwide and third in ASEAN. Vietnam surpassed Singapore and Malaysia to become the fourth largest economy in Southeast Asia, after Indonesia, Thailand, and the Philippines.
Vietnam's total foreign trade turnover will reach 670 billion USD in 2021, imports and exports are forecast to grow by 15% annually, up to 22.6% annually, of which exports will reach 336.25 billion USD, up to 19% and imports reached $332.25 billion, up to 26.5%. In 2021, the FDI sector has a trade surplus of approximately 28.5 billion USD. Up to now, Vietnam has officially signed 17 FTAs ​​around the world.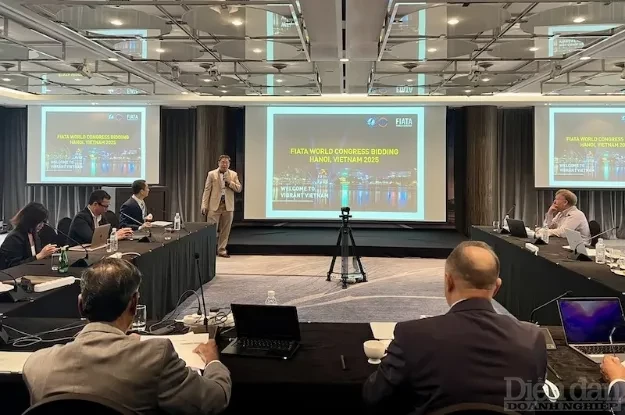 In particular, Vietnam's ocean and air routes lie between the Indian Ocean and the Pacific Ocean. Two world-class deep-water ports, Cai Mep Port & Lach Huyen Port, can accommodate ships with a vessel tonnage of more than 18,000TEU such as the Margrethe Maersk. In which, Cai Mep Port ranks 11th among the world's largest ports as an efficient container port. Vietnam also has more than 5,000 Logistics service providers.
"Pandemic response, golden population structure, stable macroeconomic politics, investor-friendly policies, cost-effectiveness, and consumer demand outlook will continue to attract new investors and FDI sources into Vietnam," affirmed Mr. Nguyen Duy Minh. At the same time, the Vietnamese Government's commitment to net-zero at COP 26 is an opportunity for the theme of Green Logistics in the FWC 2025. Vietnam is also home to a series of important international activities.
The Vietnamese delegation expects that, if it wins the right to host, FWC 2025 will be held at the National Convention Center with the main hotel being the 5-star JW Mariott Hanoi Hotel with socialization funds. The Vietnamese delegation also said that besides businesses in the field of logistics, Vietravel - the leading tourism unit in Vietnam will accompany FWC 2025. Thus, with the strength that it has been holding, Vietnam is very honored to be a bright "candidate" to host FWC 2025. In particular, according to the latest updated information from the FIATA Executive Board on this day. On September 14, 2022, Vietnam got 23/31 votes ahead of Ethiopia to host FWC 2025.
Thus, Vietnam has once again confirmed its position in the international arena, becoming a destination that follow-up global logistics businesses at FWC 2025.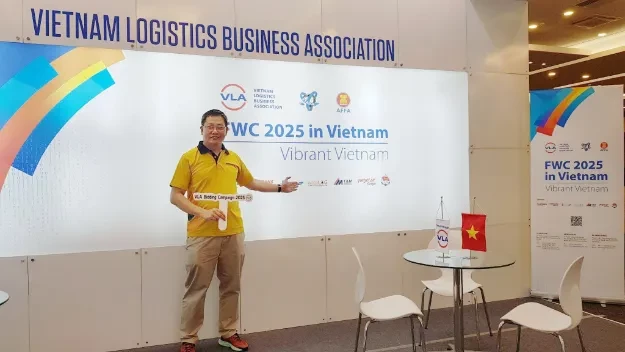 Also at the FWC 2022 event, InterLOG accompanies the VLA Association to participate in media sponsorship at the exhibition area, proudly working with domestic logistics enterprises to bring Vietnam's logistics brand to the world. Thereby affirming Vietnam's strength in the new normal period.
With the theme "Consolidation for global solutions", FWC 2022 attracted 3,000 delegates, representatives of associations, and businesses in the global forwarding, transportation, and logistics services industry to attend in person and online. The program of the congress officially opened in Busan (Korea) from September 15-16. With a series of agendas and exhibitions, FWC 2022 is the convergence of many leading technology companies in the field of logistics with the aim of digitizing paperwork as well as speeding up payment transaction settlement between the parties. At the same time, this is an opportunity to affirm the position of Vietnam's logistics industry in particular and promote the image of Vietnam in general in the international arena.