InterLOG renovates a new workspace with Lean - Green & Innovation concept
The new workspace inspires employees to work and affirms InterLOG's core value of Innovation over the years.
With the spirit of 2022: Break Your Box - Breaking all limits, InterLOG Company has implemented a campaign to renew the workspace at Ho Chi Minh City headquarters with Lean, Green, and Innovation styles in the fourth quarter of 2022 for employees.
The new office space, in addition to green, lean, and innovative elements, is also combined with brand colors to position InterLOG's substance. Accordingly, the difference in the working area compared to the old space is that the ceiling and the spaces are wide open, intertwined with two creative orange and happy yellow colors, helping to increase seamless connection and create excitement for employees working every day.
GREEN & connected welcoming space
The outside lobby area is combined with the image of terraced fields in the young seedling season of Hoang Su Phi district, Ha Giang province, in the Northeastern region of Vietnam, and the appearance of the brand logo with the tagline "Supply Chain Innovator."
The photo brings the breath of green nature while simultaneously showing the masterful creativity of "barefoot painters" in the high mountains when they cultivate in harsh terrain, land, and climate. Borrowing the typical image of Vietnam, InterLOG wants to affirm the mission and spirit of "Innovation" of InterLOG members in all circumstances for the global supply chain.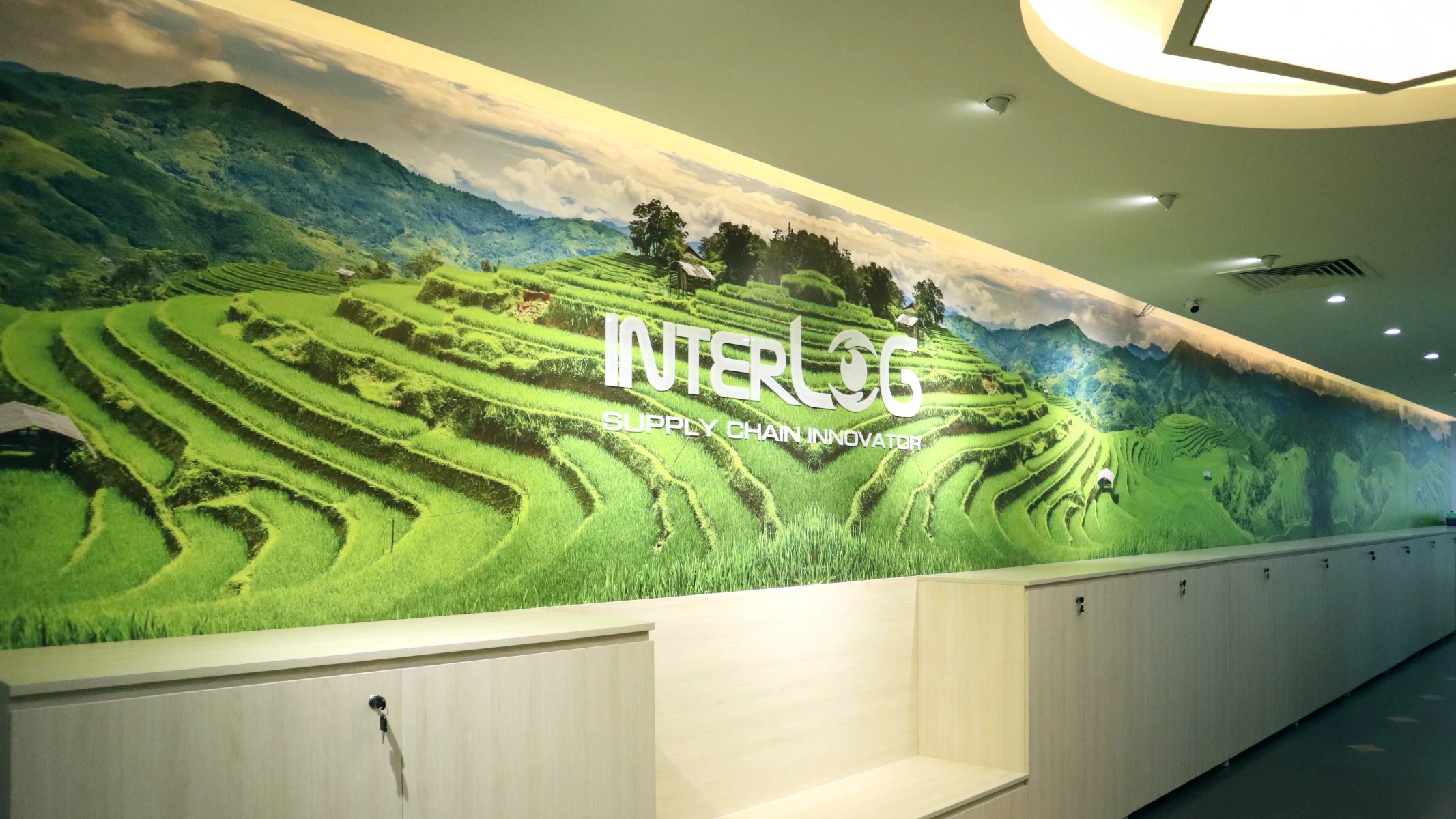 Moreover, when entering the common connection lobby, the core motifs of the brand are cleverly incorporated into the space to bring their imprint.
Previously, this place was the reception area, which has now been "demolished" and replaced by a new brand identity image. At the same time, this area has become a place to honor employees with creative solutions, etc., and contribute to the overall sustainable development of InterLOG monthly and quarterly through modern and technological displays. Therefore, this area also contains a #Social element with high internal connection and interaction.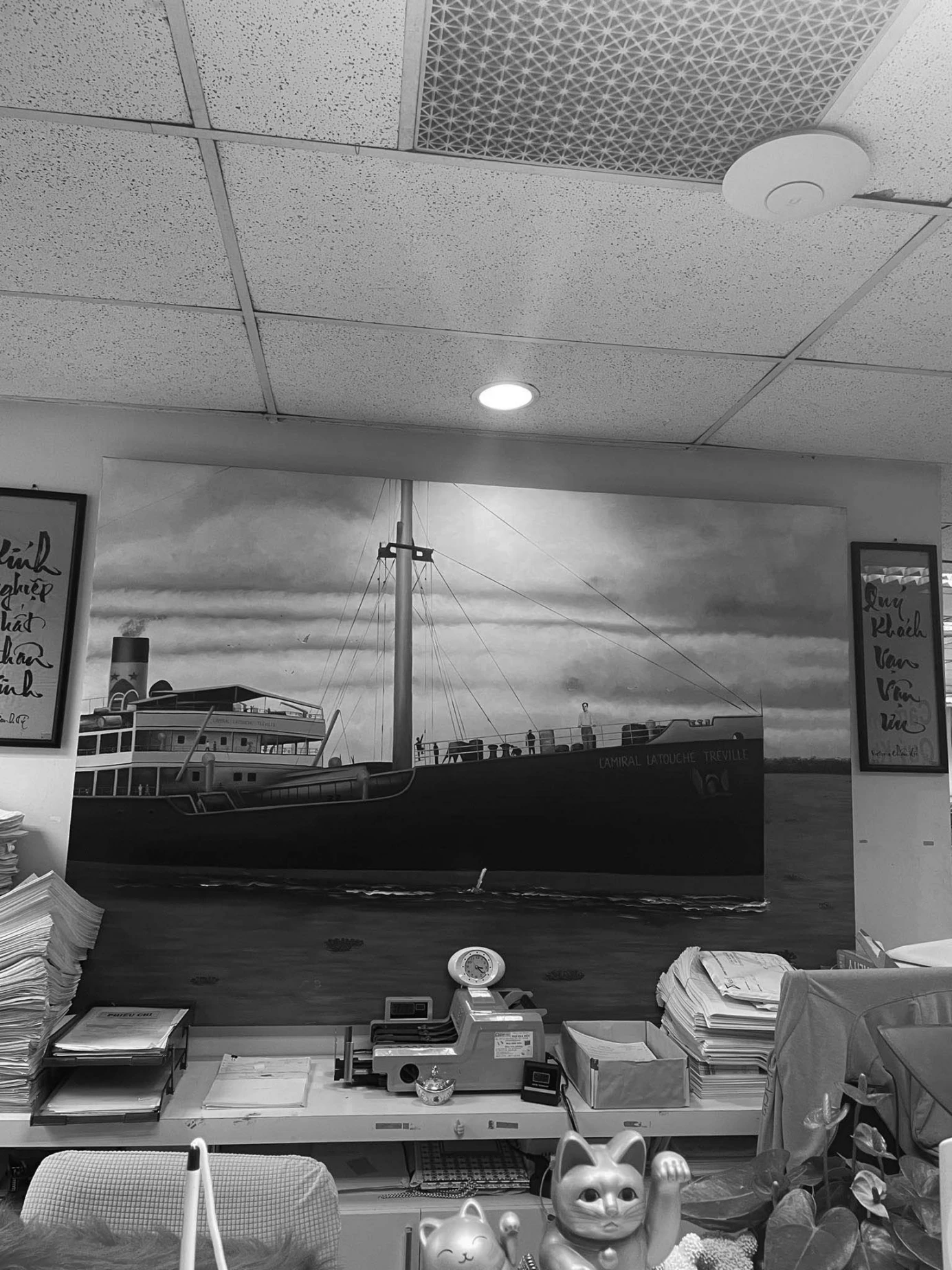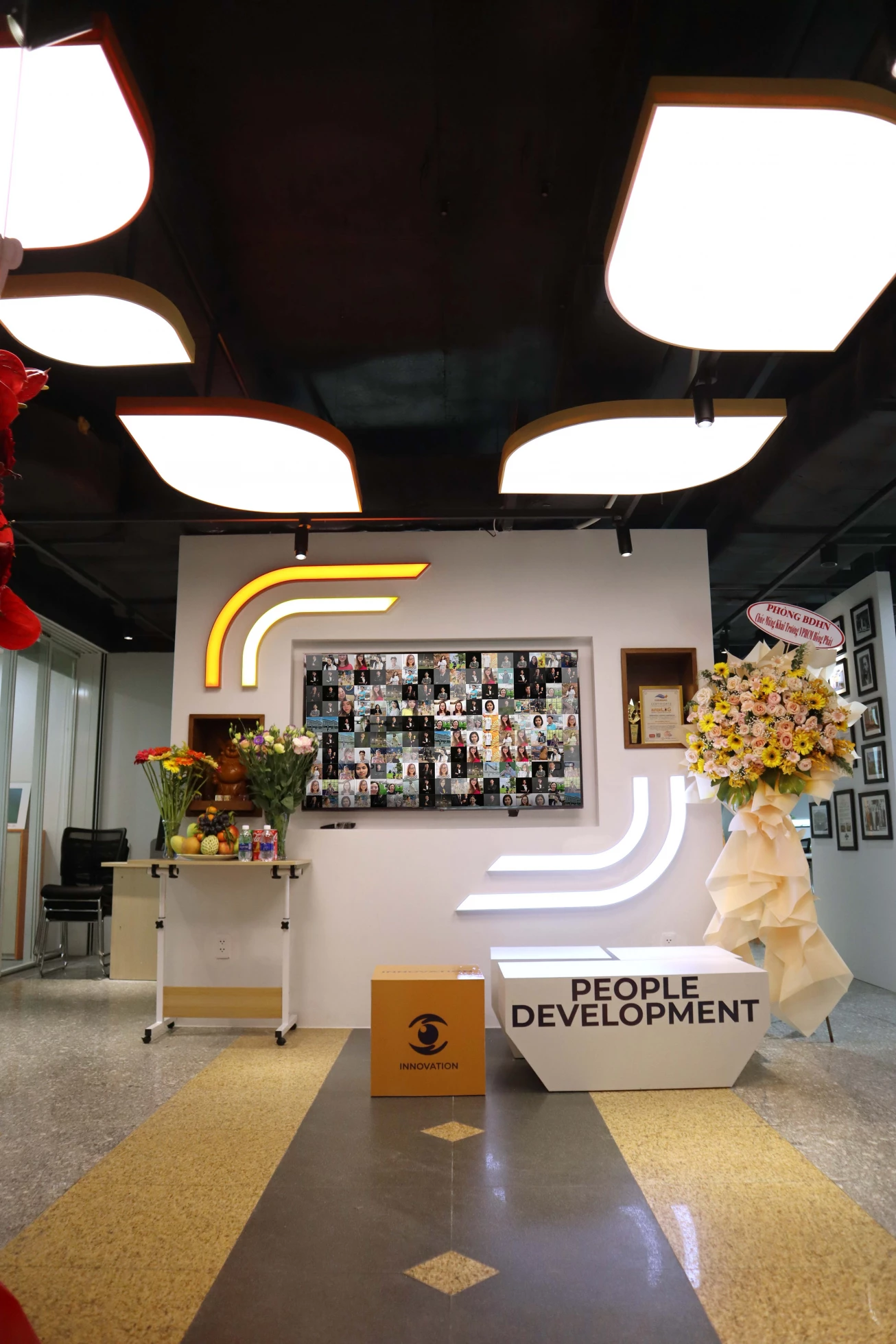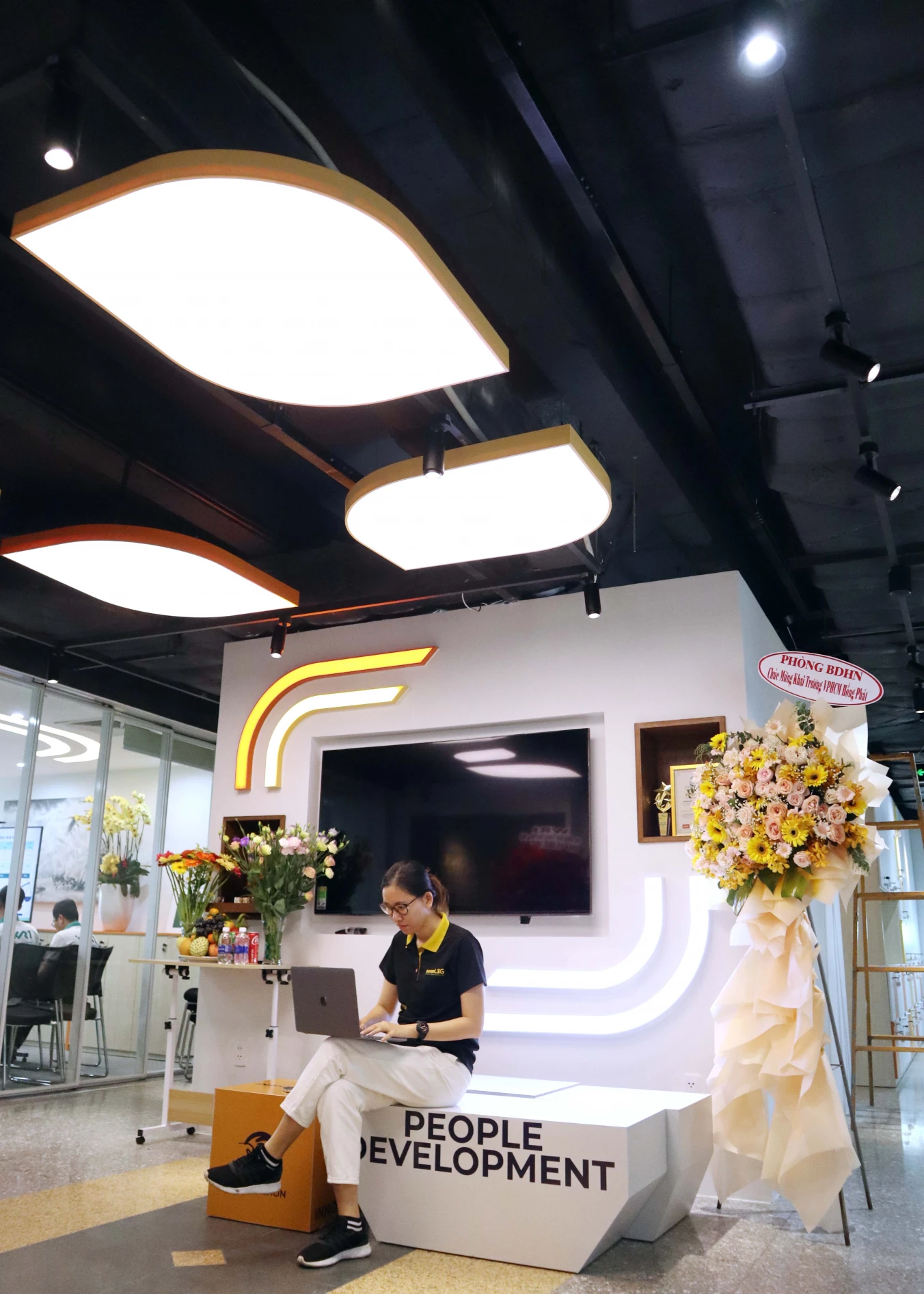 Meeting room space "INNOVATION"
With a focus on solutions and innovation, the meeting room area is designed by the spirit of innovation, one of InterLOG's core values and identity: modular tables that can be easily combined or folded into various tables. For meetings with different purposes, chairs can be stacked to create an ample open space when needed for group activities without tables and chairs, etc. Thus, the meeting room space is not only expanded but also functional creativity, strengthening the internal connection and creating new excitement for employees.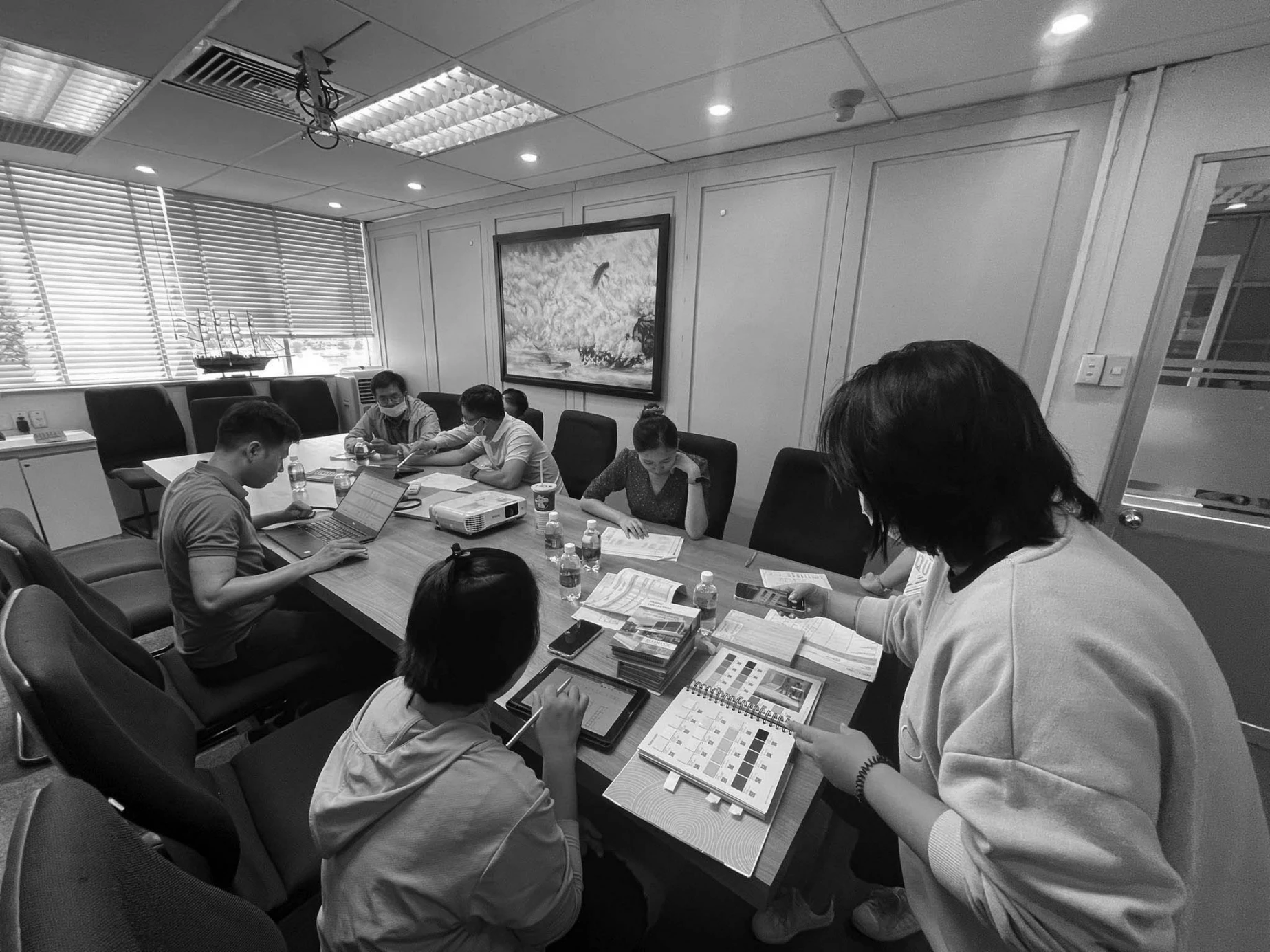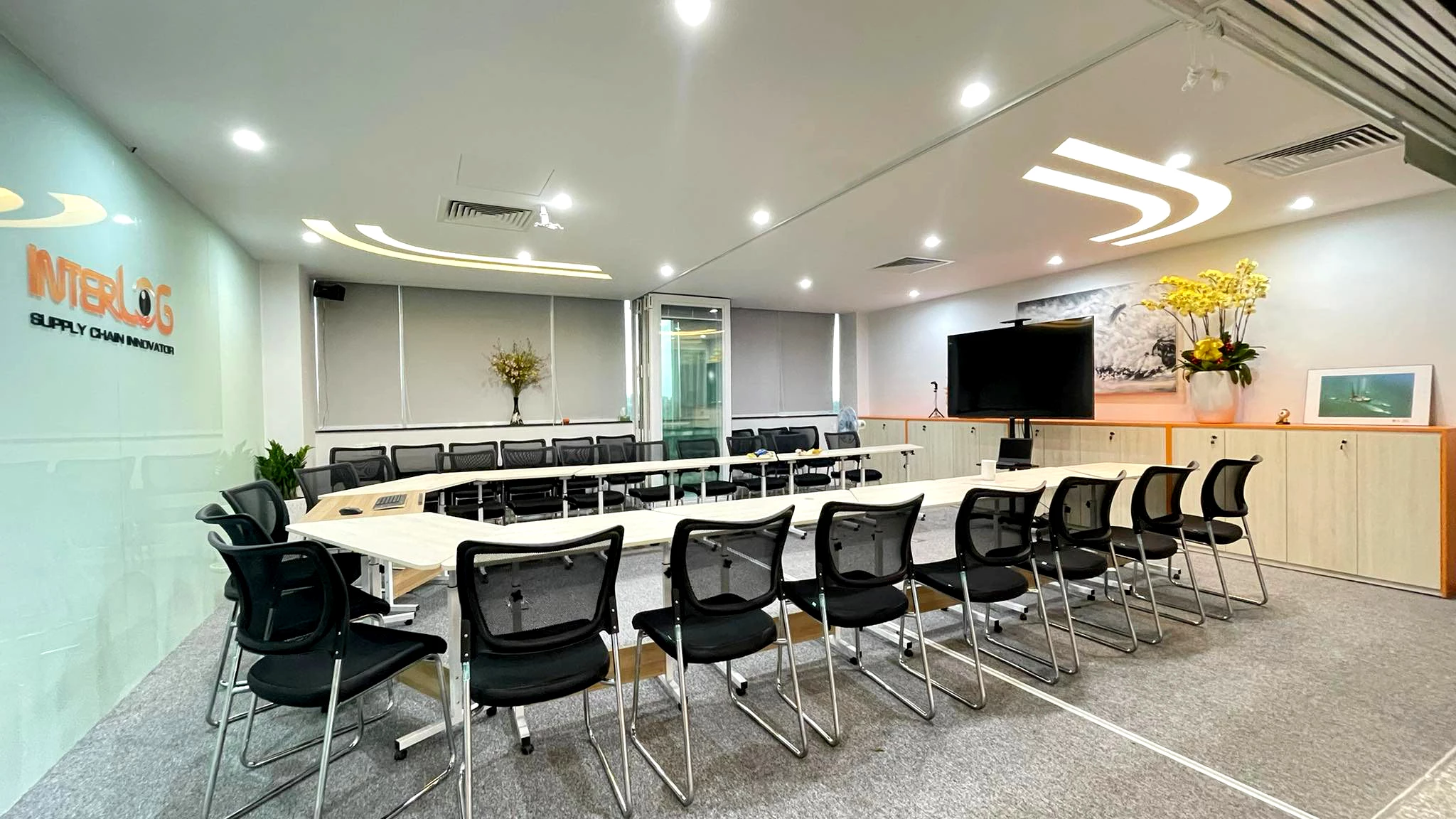 Meeting rooms are often the place for internal meetings and also to meet and present to customers. Therefore, the design of the partition with the curtain in the glass box creates a sense of formality and privacy but still provides comfort for sharing ideas and creative thinking.
Bringing LEAN elements into the workspace
The peculiarity of the logistics industry is 90% related to administrative paperwork, so besides the company-wide digital transformation being implemented, the design of InterLOG office in Ho Chi Minh City is also arranged to optimize space. The most compact way:
The locker system replaces the previous removable cabinets, allowing employees to store personal belongings and use them alternately, saving space and maximizing usability.

Instead of using a file cabinet with glass doors to reveal dozens of papers piled up like before, now the cabinet system is designed with a simple, modern design with brand colors while creating a sense of neatness while stimulating the spirit of working every day for employees.

Design to make the most of open ceiling space for storing multi-year records of departments and units.

Working chairs are easily stacked for on-site collective sports activities, etc.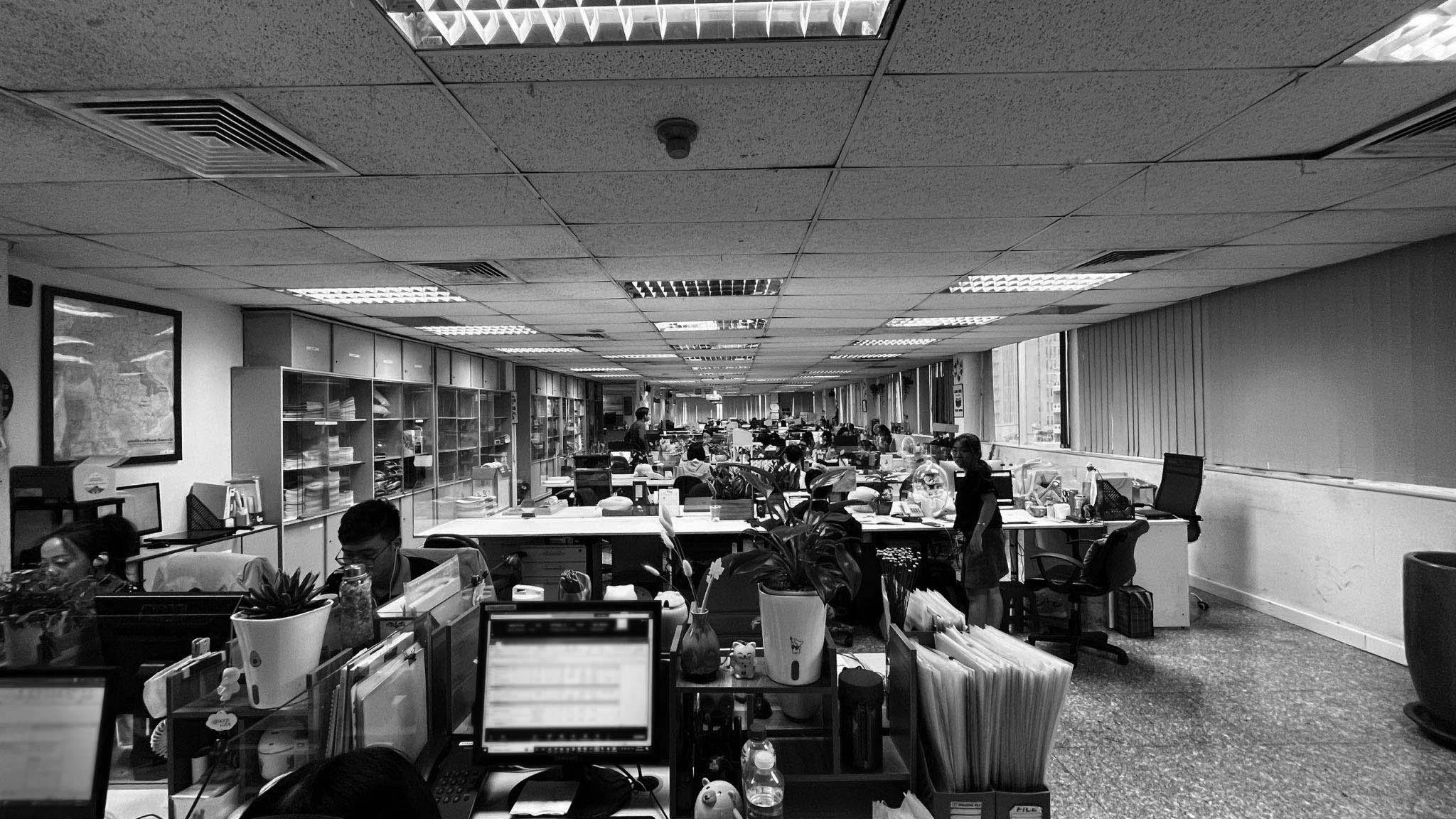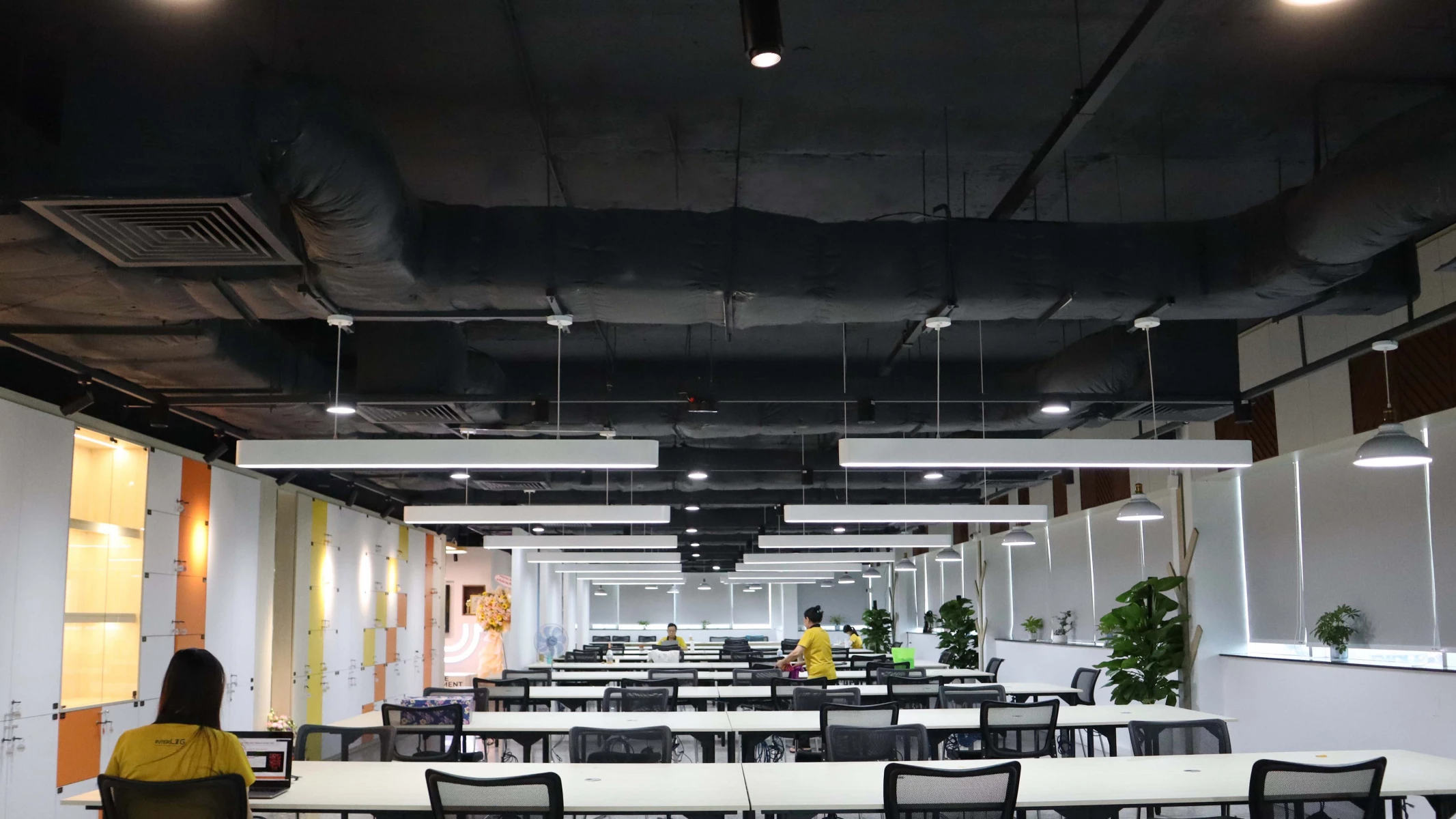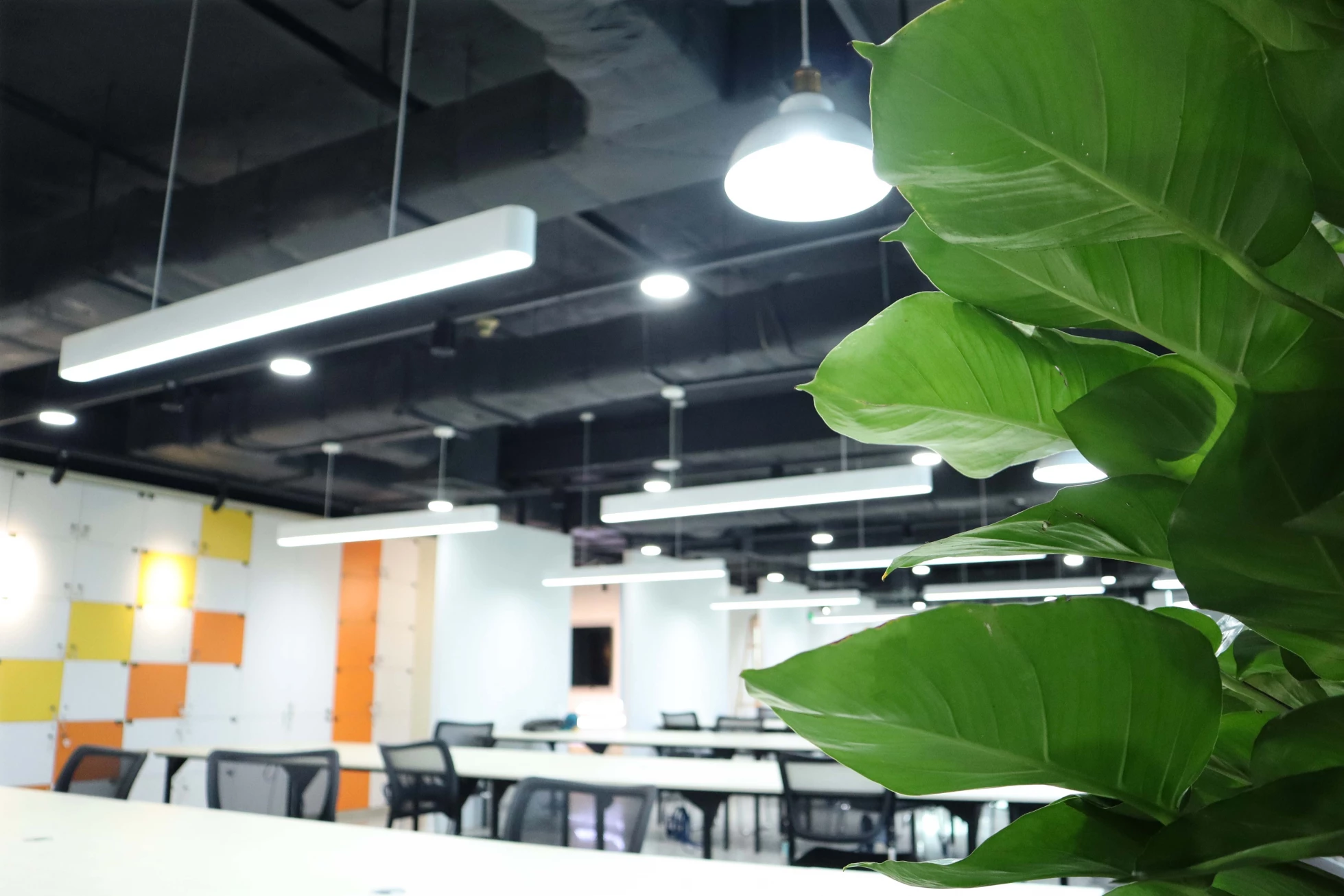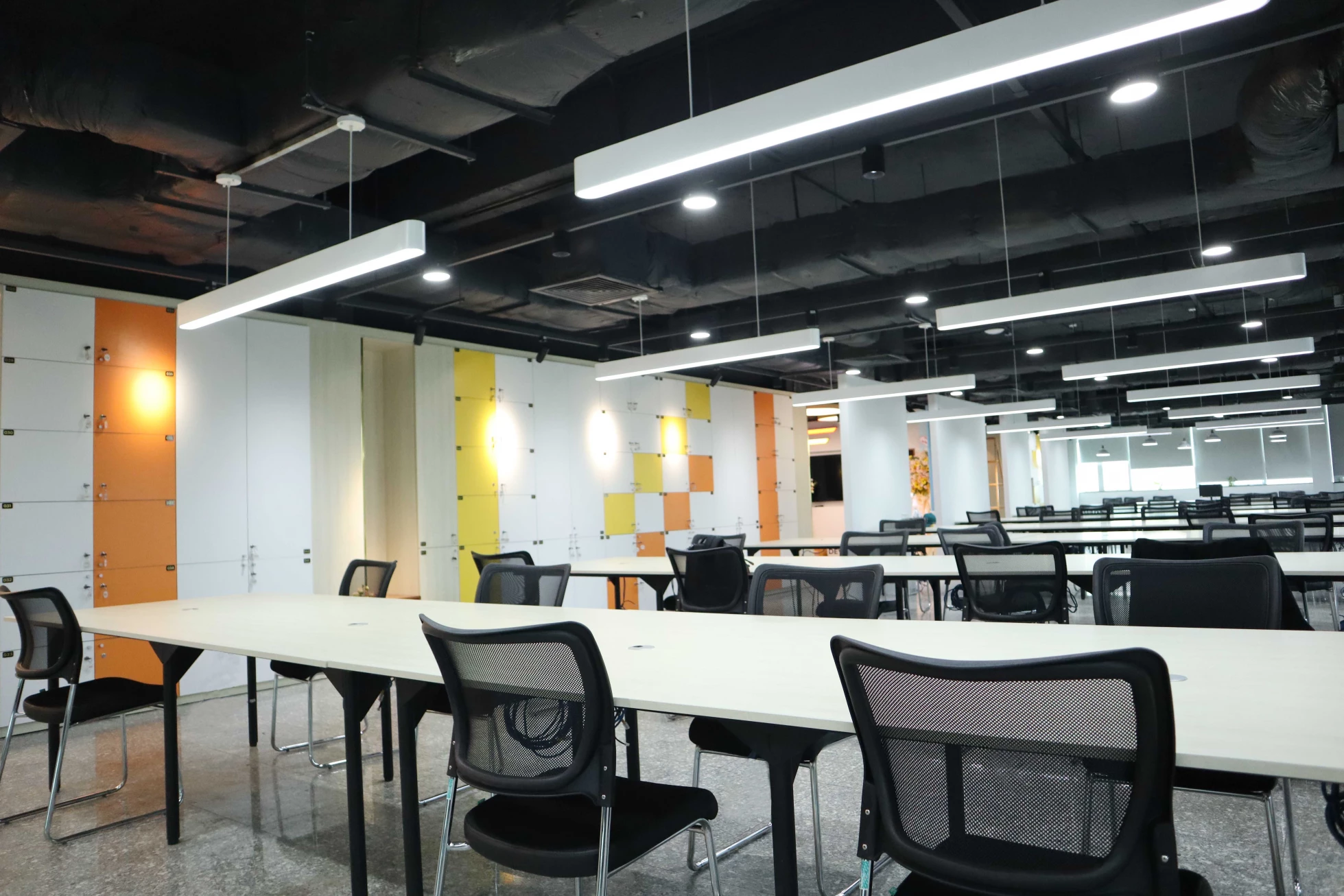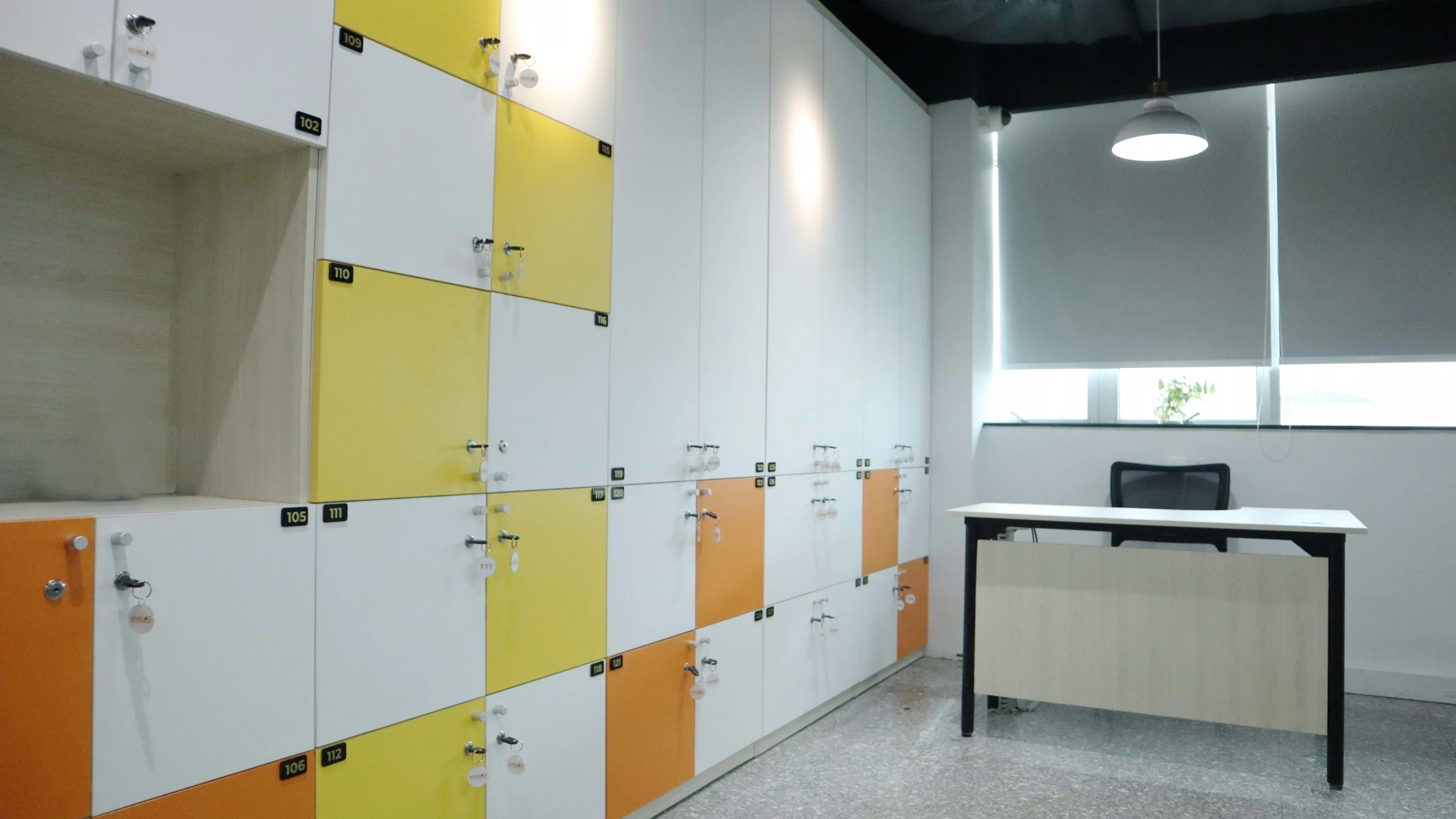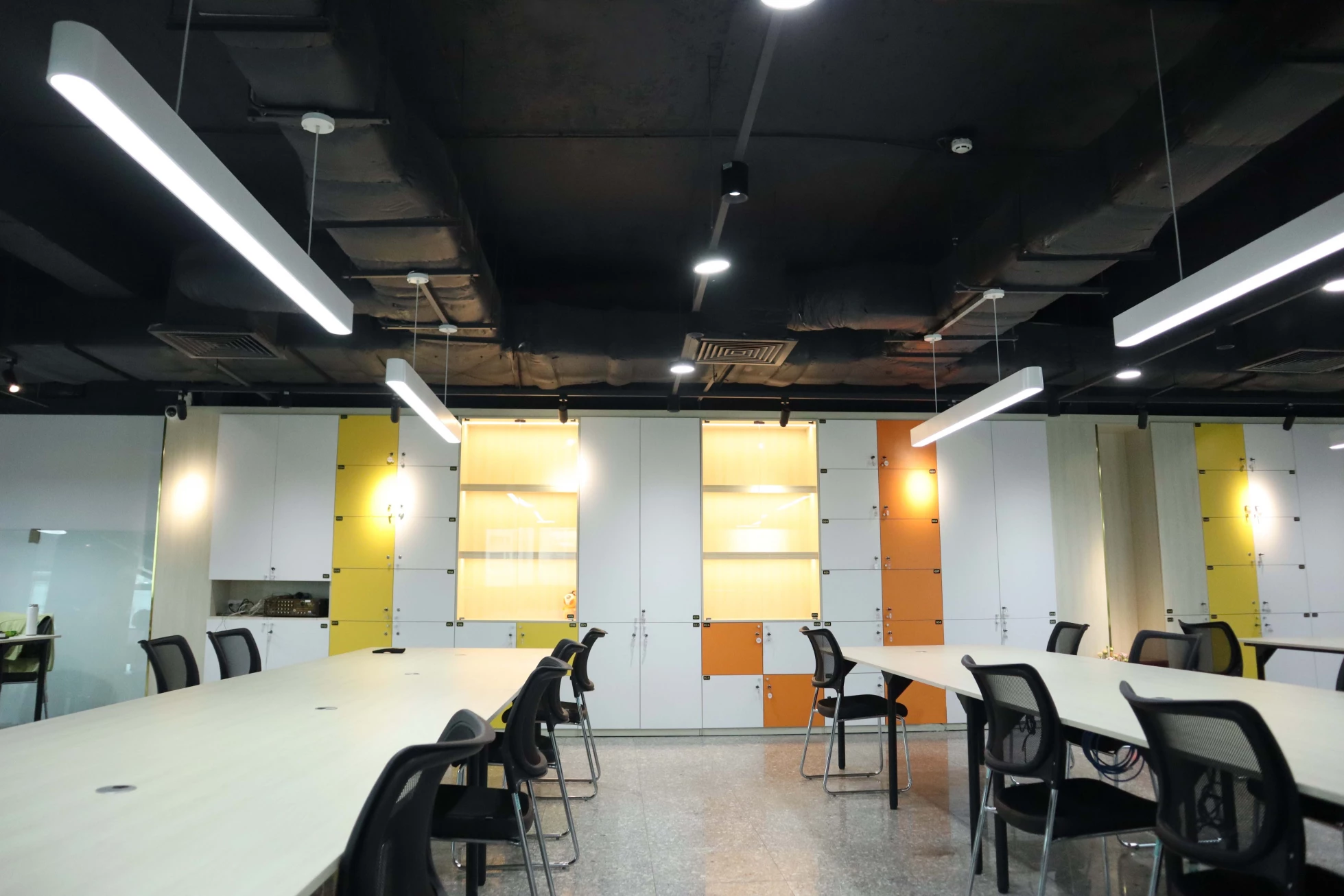 Creating a 3R (Recycle - Reduce - Reuse) area to raise awareness of environmental protection
Towards the sustainable development goal of the business, in addition to the necessary areas for the office, InterLOG creates a separate space named 3R (Recycle - Reduce - Reuse) to raise awareness of environmental protection, shared lifestyle, and the spirit of avoiding waste.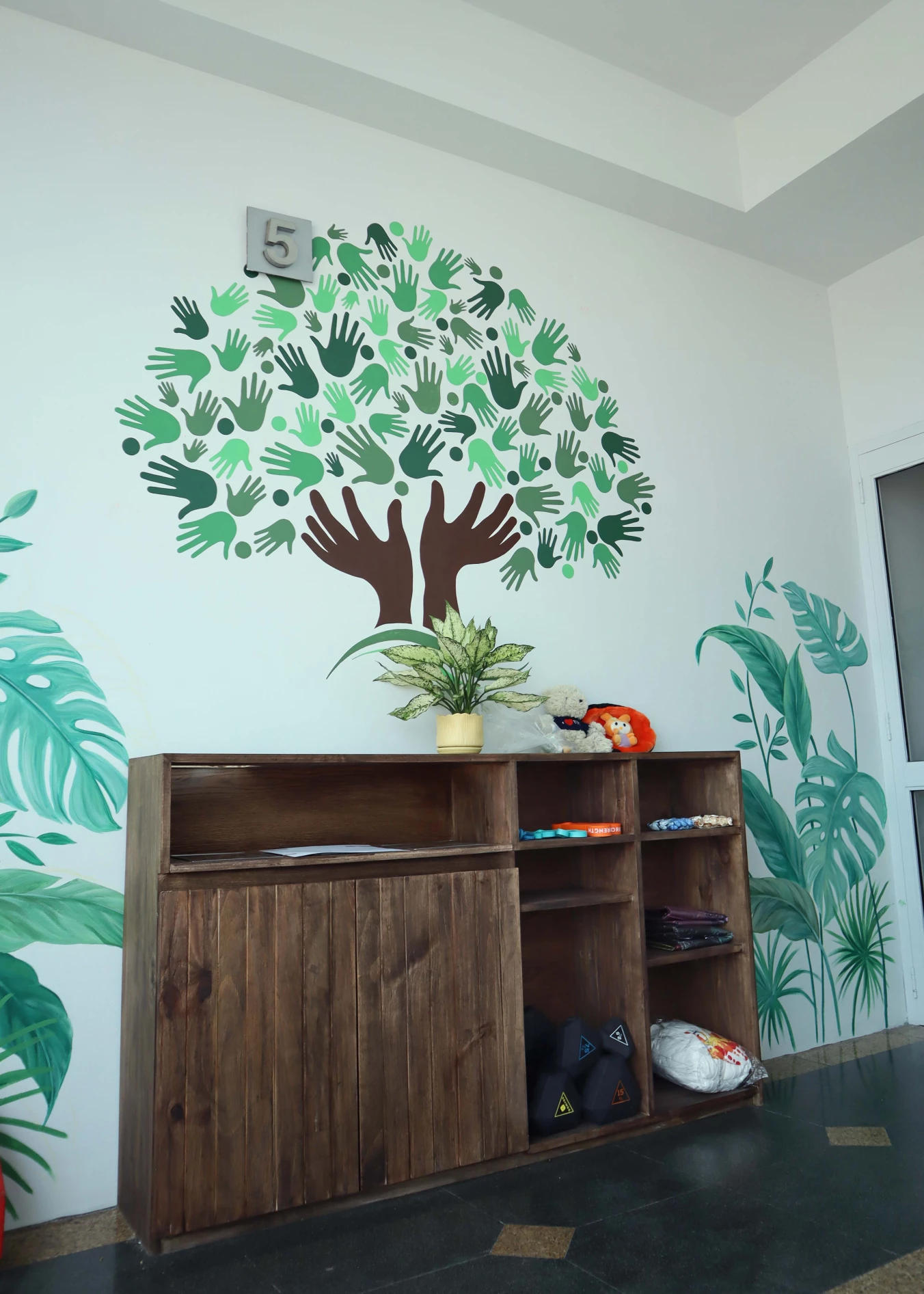 With a picture of hands put together to form a big tree, with the message "each of us working together on small things will make great improvements to our living environment," the area is placed a unique cabinet divided into three purposes:
Recycle bin: 3 recycling bins classified by: paper, nylon/plastic, water cans, old batteries, etc.
Reduce bin: sports equipment: fitness bands and dumbbells, helping employees practice and improve their daily health, reducing excess body fat and negative mental factors.
Reuse bin: a place to put the products we want to share with others (books, t-shirts, pens, etc., or other valuable items left over but not in use) to encourage the spirit of sharing and avoid waste.
This renovation of Ho Chi Minh City's office workspace promotes better employee performance and demonstrates InterLOG's strong commitment to E.S.G's sustainable development strategy. (Environment - Social - Governance) in recent years. With a fresh working environment, good remuneration policies, and attractive benefits, InterLOG can be considered a company that gives employees many opportunities to develop, improve, and advance in their careers.